Keep her steady – Trailer Magazine Article
Friday, 8 July 2016
Trailer Magazine – June 2016
SURGING AIR VOLUMES IN SUSPENSION SYSTEMS CAN CAUSE A MOVING TRAILER TO EXPERIENCE A SWAYING MOTION, BUT AUSTRALIAN HEAVY-DUTY EQUIPMENT SPECIALIST POWERDOWN HAS DEVELOPED A SIMPLE SOLUTION.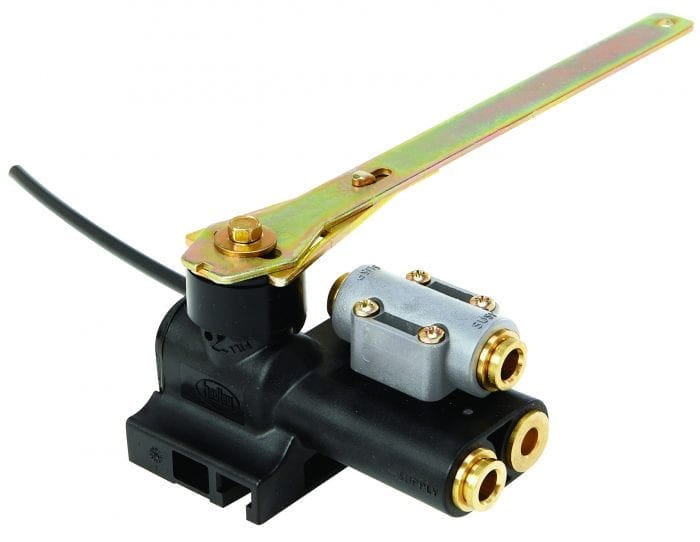 Air suspensions are designed to be load sharing, with air flowing between the air bags to accommodate the transfer of weight on the truck and trailer. The air in the system is regulated by a height control valve, which pumps and exhausts air based on the load and the dynamic road conditions.
According to Powerdown General Manager, Mathew Gatgens, due to these load sharing characteristics, trailers with a high centre of gravity or in a dolly configuration can experience a surging of air volume from the front to the rear, On some occasions, this surge can be side to side within the air bag system and momentarily render the platform unstable.
To decrease the movement caused by airflow, Australian owned and operated heavy equipment specialist, Powerdown, has developed a new cross-flow air valve in conjunction with Hadley, one of America's largest height control valve manufacturers.
"Powerdown is well known for our large selection of commercial vehicle shock absorbers, but we are also constantly creating new partnerships and innovating solutions for our customers to help get the most out of their equipment," explains Mathew.
Launched in May at the International Truck, Trailer and Equipment Show (ITTES) 2016 in Melbourne, Mathew describes the cross-flow valve as a simple and cost effective design that controls the air flow.
"The shifting weights that can occur from air movement in air suspensions can mean a driver has to pay a lot more attention to keeping the vehicle on a straight path," says Mathew. "It can add to a driver's fatigue, especially for multi combination and dolly operators, as they experience the pitch and yaw from shifting loads significantly more than other combinations."
According to Mathew, the new cross-flow valve is available in high or medium flow rates to suit the operator's requirements.
"The constant shifting can also wear down suspensions, shock absorbers, tyres and other related componentry, so we expect operators to experience a longer equipment life with the simple and effective solution that keeps trailers steady on the road."
Fast Fact: Powerdown Australia has become known over its 30 years in the industry for its range of heavy-duty shock absorbers, and has also recently released new Low Pressure Gas technology trailer shocks.