New low gas trailer shock absorbers – Australian Diesel Mechanic Magazine Article
Monday, 15 June 2015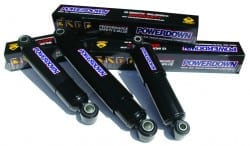 Until recently gas shock absorbers have been largely used on cars & small commercial vehicle applications. Powerdown the heavy duty shock absorber experts took up the challenge to create a gas shock absorber for trailers utilising a specialised measured low pressure gas injection process.
The majority of tyre wear on air suspended trailers is due to poorly performing shock absorbers that have either worn out or due to excessive heat build-up inside the unit.  When a shock absorber overheats the oil inside the unit loses viscosity that affects the ability of the shock absorber to control the trailer. This condition is known as shock absorber fading causing patchy tyre wear, loss of control and unwanted load movement. The following conditions will result in a significant increase in driver fatigue and operational cost.
The key benefit of the new gas injection process is to provide further cooling properties inside the shock absorber.  This will allow the shock to operate cooler for longer and resist a loss of dampening performance. Low pressure nitrogen gas was used over high pressure gas to avoid excessive pressure build up on the main rod seal inside the shock absorber that would compromise the longevity of the unit.
One thing that really stands out when you pick up the new Powerdown Supershock is the weight of the unit. No compromises were made when designing the shock absorber with a 2.5 mm thick steel pressure tube and 2.0mm thick body. This not only provides better protection from stone damage but goes a long way to increasing the overall tensile strength of the shock absorber to cope with the higher dampening force requirements in Australia.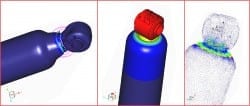 The new units further benefit from improved speed sensing disc valving which adobts quicker to different road conditions. This calibration greatly improves wind stability, body roll through cornering and control through dips and potholes. Complementing this adjustment is a newly developed oil to suit the application. To enhance the performance of the shock absorber a hydraulic stop was incorporated in the design to avoid metal to metal contact within the shock. This acts as a hydraulic cushion of oil which slows the suspension components in a controlled fashion as the suspension reaches the end of it extended travel. This feature is essential when the shock absorbers are used as the primary suspension travel limiter or especially when the trailer is used in conditions where it reaches it maximum travel regularly. Full suspension articulation usually occurs when dropping off the side of a gutter or a steep driveway ascent or descent which will allow the suspension to reach its full travel, bringing the recoil stop into play.