Shocking Ride – The Wanderer Magazine Article
Monday, 11 January 2016
The Wanderer Magazine – January 2016/Volume 31
Australian road conditions & the long distances travelled whilst touring can be testing on a motorhome in terms of comfort and control, after all it is not just the destination but also the journey that makes your trip memorable.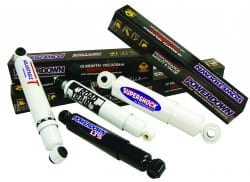 Shock absorbers are a key replaceable component largely responsible for controlling a vehicles suspension, keeping the tyres in contact with the road surface. This key component has a large bearing on vehicle control, comfort and its braking ability.
The first tell-tale signs that your shocks need replacing is unusual tyre wear, where there are flat inconsistent patches known as scalloping on the tyre tread surface. This is a result of the tyres slamming down on the road surface in an uncontrolled manner. Other symptoms include nose diving under brakes, repeatedly bouncing after hitting a bump in the road and excessive body roll.
If you have experienced any of the above symptoms it is a very good chance that that your shock absorbers need replacing before other expensive repairs are required such as broken spring leafs, chassis cracks and other vibration related damage.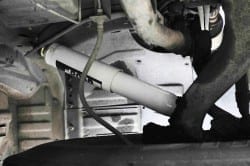 Powerdown are the largest supplier in Australia of commercial vehicle shock absorbers, with over 30 years of experience in designing and developing shock absorbers specifically for Australian road and climatic
conditions. Powerdown shock absorbers have proven themselves to be reliable and value for money over thousands of kilometers on Australian roads.
With a vast range of shock absorbers available off the shelf and expert knowledge to back this up, Powerdown can supply a solution to your ride control issue improving overall comfort and vehicle control.